Oxidative cross-coupling
Aromatic and heterocyclic aryl amines are important target molecules in organic synthesis due to their potential applications as pharmaceuticals and materials.

As a complement to the palladium-catalyzed amination procedure we established an oxidative cross-coupling reaction leading to primary, secondary or tertiary aryl amines.

oxcrosscoupling_01.jpg

oxcrosscoupling_02.jpg
In addition, we extended the oxidative cross-coupling protocol to the preparation of polyfunctional alkynes via the formation of a C(sp2) - C(sp) bond.

oxcrosscoupling_03.jpg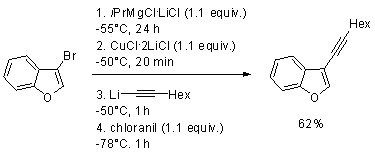 oxcrosscoupling_04.jpg
The functionalized benzofuran derivative is well suited for the preparation of new annulated pyridines.

oxcrosscoupling_05.jpg